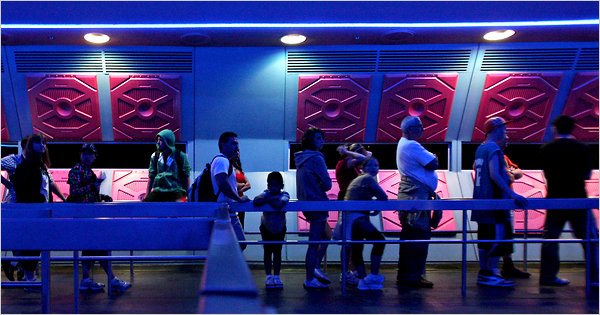 Visitors wait in line at the Space Mountain attraction at Walt Disney World in Orlando. Disney has installed game stations along the way to entertain visitors while they wait.                 Credit Joe Burbank/Orlando Sentinel
There's no disputing that Disney has a mastery of events. Recently Disney held an expo and  Timothy Schneider, editor of Association News, gleaned six insights on how they create outstanding events.   See how many you incorporate into your events.
Keep the lines moving. Whether attendees are waiting at your registration desk or are in line to be seated or have lunch, keep the line moving. Have plenty of staff or volunteers on hand to direct traffic. Even if the lines and wait times are long, attendees appreciate a line that's moving.
Don't scrimp on audiovisual. The latest in AV gear can go a long way toward enhancing the experience for your attendees, improving the interaction between the audience and the presenter, and leaving the audience with vivid visual memories long after the event concludes.
Run sessions on time. While live events can sometimes be unpredictable, event organizers should do their best to stick to the published schedule. If a session starts late, avoid a domino effect by concluding it on time so that subsequent sessions will still be on schedule.
Do a rehearsal. Whenever possible, always do a complete run through of the event with the technical crew and presenters prior to show time. This is a critical opportunity to evaluate the flow and timing of your sessions, assess what works and what doesn't and make final adjustments as needed.
Surprise and delight your audience. Your audience chose to attend your event for a reason. Give them what they expect both also surprise them with special appearances of elements not included in your pre-show promotion or published program. They'll be pleased that they got more than they expected.
Remember, it's a show. Think of your event, from start to finish, as a performance. Attendees many remember every single details, but they will walk away with an overall impression of your event.
Source: Association News, September 2015. Timothy Schneider
---