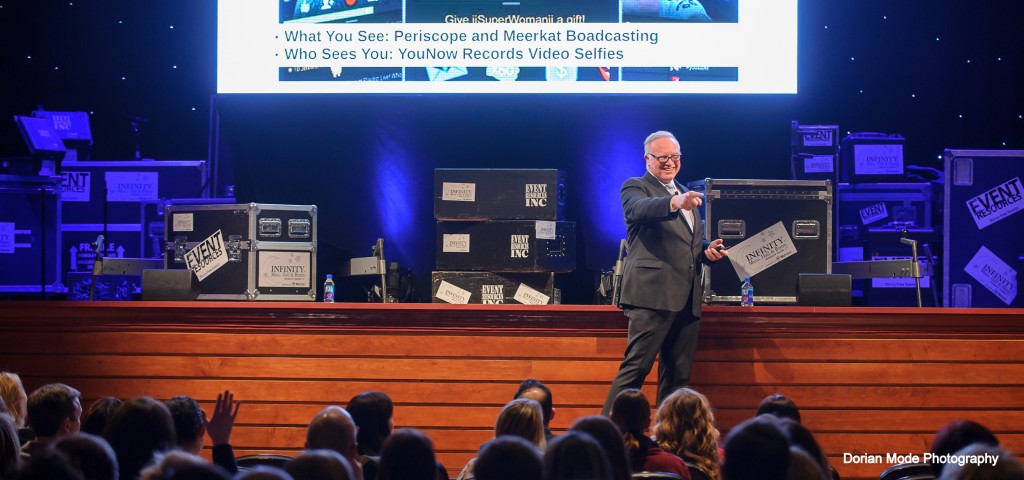 Infinity Hall was rocking January 20th, not from the traditional music they usually feature, but from a large gathering of movers and shakers in the area event industry. David Adler, CEO and Founder of BizBash, a "rock star of the event industry", according to Dan Hincks, CEO of Infinity Hall, educated and inspired over 150 people in the new technology, communications and social interactions of events.
Sponsored by Event Resources and Infinity Hall, David Adler's dynamic Prezi presentation included videos and examples of what the latest trends are in events including:
• The Science of How To Pay Attention
• How Millennials are Driving New Ideas
• Cultural Influences on 2016 Event Design
After the program Infinity Hall and Event Resources hosted a reception featuring culinary treats from Chef David Gilmore of Infinity Hall.
See it all!
If you missed Mr. Adler's dynamic information, or would like to review it again (there were so many ideas it was hard to keep up!), his entire presentation has been divided into short topic areas and is available on YouTube
Mr. Adler's presentation "Where are we going?- January 20, 2016" is available for download.  (You must sign up to Prezi to view.)
Lastly, see photos of the event are located on our Facebook page at eventresourcesinc.
Many thanks to David Adler, Grazia Mohren, VP of Marketing at BizBash and Dan Hincks, CEO of Infinity Hall, for partnering with us to make this event possible!
---