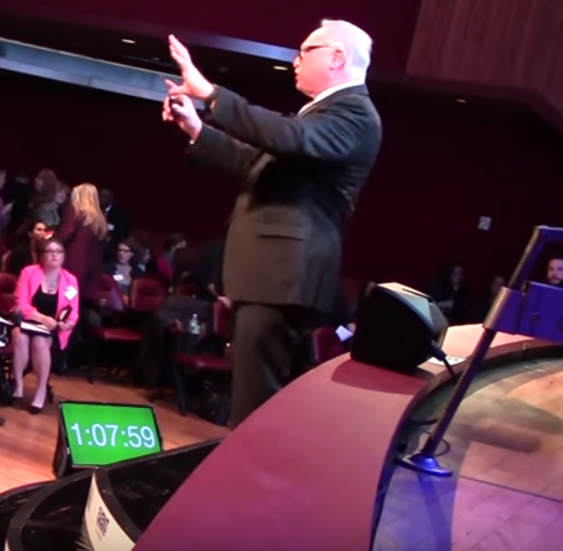 Speakers, as in keynote or celebrity (not the ones that emit sound) are a focal point at any event. Most events are centered around a speaker, so having a professional one that captivates the crowd is critical to the overall success of the event.
So how do you find a great speaker? Personal referrals are always good, or speakers you've heard yourself. If you need help, Speaker Bureaus can connect you with the right person, negotiate on your behalf, handle the details and even find a replacement if a booked speaker has to cancel on a short notice at no charge to you. The speaker pays the bureau's commission. Check out The Goodman Speaker's Bureau in Windsor for more information.
Of course, the right speaker is only right if their fees fit within your budget. To negotiate the best deal, keep in mind:
• Professional speakers get hundreds of offers to speak for free. If you implore a speaker to donate their time and services for your worthy cause, be prepared for your request to wind up in a pile of similar requests, the majority of which will be denied. Be prepared to have a budget for a speaker that provides a good audience experience. (Or click here for websites that lists speakers who will speak for free.)
• It takes hours to prepare a new presentation for your audience so factor that time into how much the speaker is investing in your event.
• Speakers have preferences (locations, days of the week, etc.) that affect their fees.
• Having multiple engagements back-to-back in the same geographic area is appealing to them.
• Offering multiple slots (keynote and breakout, for example) can help your bargaining position.
• If your event is a great "showcase" for the speaker, they may charge less. Be prepared to show evidence that the event can provide spin-off business for them.
• Allowing the speaker to sell their products at your event can affect fees.
So how much do speakers really cost?
Industry Speakers
• Typically receive free conference registration, travel, lodging and expenses.
Industry Speakers Known as Experts and Average Presenters
• $250-$1,000 per day. This is appropriate for people with solid content and average presentation skills.
Industry Speakers Known as Experts and Great Presenters
• These industry people are known as specialists and experts, who have strong messages, a well-known name in the community, excellent and fresh content, and fantastic presentation skills. They typically receive from $1,000 – $4,000 per day.
Rising Professional Speakers
• These people make a living as facilitators, presenters and trainers. They have enough demand that they can charge a higher fee. They usually represent the best new and veteran professional speakers in their field. They often receive from $4,000 to $10,000 a day.
Specialty Professional Speakers on the Verge of Marquee Status
• These professional speakers have a specialty niche area or some type of new fame. They may have published several books. Theses speakers often receive from $10,000 – $25,000 a day. (New York Times bestselling authors can command $40K and up per speech.)
Marquee Names
• The superstars. They are household names with some type of fame but are not necessarily known for their speaking ability. These speakers include athletes, ex-Presidents, Bill Gates, Barbara Walters, etc. who receive from $25,000 top $300,000 or more.
Here's a sample of what top speakers are commanding:
LeBron James: $500,000 – $1,000,000
Ben Bernanke: $200,000 – $400,000
Sarah Palin: $115,000
George W. Bush: $100,000 – $150,000
Sir Richard Branson: $100,000
Chelsea Clinton: $75,000
Mark Cuban: $50,000 – $100,000
Connecticut Sports Figures Speaking Fees:
• Ray Allen: $30,000 – $40,000
• Geno Auriemma: $30,000 – $40,000
• Jim Calhoun: $20,000 – $30,000
• Rebecca Lobo: $10,000 – $20,000
• Jonathan Coachman: $5,000 – $10,000 (ESPN Anchor)
Connecticut Area Speakers:
Daniel Etsy: $10,001 – $20,000;
Hillhouse Professor of Environmental Law and Policy, School of Forestry & Environmental Studies, Law School; Director, Yale World Fellows Program.
Jayne Pearl: $5,001 – $10,000
Jayne Pearl is a journalist and entertaining speaker, focusing on family business and financial parenting.
Shel Horowitz: $5,001 – $10,000
Profit by Going Green! Easy Strategies to Support Your Planet and Your Wallet
Team Hoyt: $20,001 – $30,000;
Inspirational Father and Son Marathon Team
Now that you know what some of the going rates are for speakers, check out the blog on where to find speakers who will speak for free, as well as how one speaker charges anywhere from $5,000 to less than $1,000 – depending on a number of factors.
#   #   #   #
Sources:
http://www.inc.com/jeremy-quittner/carly-fiorina-jumps-on-speech-circuit-one-day-after-ending-presidential-bid.html
Speakersinternational .com
Washingtonspeakers.com
Premierspeakers.com
http://smallbusiness.costhelper.com/motivational-speaker.html#comments
http://velvetchainsaw.com/2010/10/25/cheat-sheet-for-hiring-paying-professional-speakers/
http://www.nsaspeaker.org/find-speaker/
http://www.neontommy.com/news/2013/11/price-political-speakers
http://www.ct.gov/cid/cwp/view.asp?Q=457074
http://www.speakerservices.com/category/speakers/fee/
http://freespeakerbureau.com/search.php/customers_types_id/1?customers_display_name=&states_id=19&customers_keywords=&topics_id=&continuing_ed_states_id=&sort_order=0&submit=Submit
http://www.governor.ct.gov/dcp/cwp/view.asp?q=276800
http://www.speakerservices.com/category/speakers/fee/
http://www.speakermatch.com/local/state/connecticut/?from=10
https://www.allamericanspeakers.com/local-speakers/Hartford/1/1
http://www.forbes.com/sites/nickmorgan/2013/11/14/how-much-can-you-charge-for-speaking/#72ac6a4b6c31
http://www.forbes.com/sites/robertwood/2016/02/09/hillarys-wall-street-speech-fees-hers-or-clinton-foundations/#5af8181c6232
http://abcnews.go.com/Politics/washingtons-highest-lowest-speaking-fees/story?id=24551590#4
---