Resources
Event management resources to guide and inform you
The more tips and tricks you have in your bag, the more you'll shine.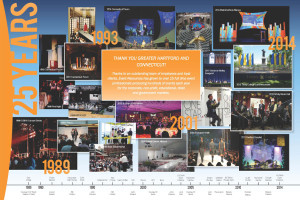 25 Years of Special Event History
Event Resources' contribution to special events in southern New England since 1989.
Case Studies
Real world case study showcases benefit fashion show and video conferencing
eBooks
The media still prefer a good old press release to receive information.
Honor the Flag


How to properly display the American Flag.
How to Guides
Drapery

The dramatic way to transform your event space from ordinary to stunning. Drapery can function as attractive wall dividers or coverings. Drapery can solve your room's set-up dilemmas such as a space that is too large, unsightly or unworkable.

Event Room Layout and Design
How to choose the best space and the ideal way to set it up.
Graphics
How to bring your event and your message to life.

How to Light Up Your Event
Create drama. Add elegance. Set the mood.

Stages
Rent the perfect stage for your event by asking these 5 questions.

Stand Out
Ideas for transforming your space to make it look like no one else's.

Tent Events
Tents can make a big impact but there's a lot you need to know first.

The ABCs of Good Sound
Three tips for an awesome sound system rental.

Video Projection
How to visually connect your audiences with your messages and your mission.
Live Streaming Services
New! Live Streaming Video Services

The next best thing to being there.
Worksheets

Certificate of Insurance – Explained
Quick Tips: Understanding the Acord Certificate of Insurance.
Event Budget Worksheet


An easy way to track your expenses.