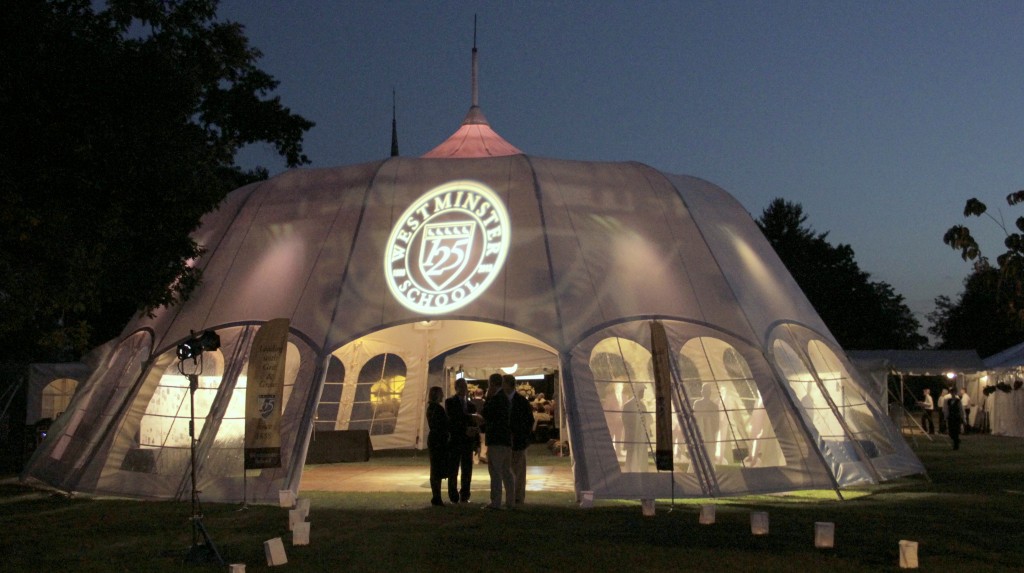 Tents are so popular during the warmer months that often times they are completely sold out!
And no wonder.  Nothing beats an outdoor party with fresh air, sunshine (or moonshine if that's the case).  And tents give you virtually unlimited possibilities for making it a truly unique experience.
Of course, smaller tents are easy to set up and don't require a lot of thought. As tents go up in size, you'll need to starting thinking about more details, and for super large tents, like those for large parties and galas, you are looking at  replicating the services and facilities that are automatically included in an indoor venue.  In the end, the atmosphere of a tent event can be spectacular. Just look at the dramatic 125th Anniversary Party Westminster School created (see photo above).
To guide you along the decision process, here's a checklist of items that will help you think through the details so you know what to look for, and budget for, a tent event.
• Weather and the Elements – What's Your Back Up Plan?
o Rain: Do you have side walls to keep the rain out? Rain can also cause flooding inside the tent if there isn't a floor, or if the floor isn't raised.
o Lightning: Sorry, the tent can't be occupied while there is lightning.
o Heat: Budget for using A/C, fans, and generators to run them.
o Cold: Budget for using appropriately-sized heaters and the generator(s) to run them.
o Wind: Sidewalls can be secured against wind with stakes, or a hard wall structure can be built beforehand.
o Snow: It's difficult to remove snow from a tent roof. How much snow can the roof withstand?
o Noise: Is there another event nearby going on at the same time?
o Traffic: Will traffic noise increase or decrease during your event?
• Site
o Call Before You Dig! What's underneath the ground? Cement? Sprinkler Systems? This makes a difference where the tent is located, the size of the tent, and how it's secured to the ground.
o Staking: Remember to include the location and space needed for staking the tent around the outside perimeter.
o Slope: Is the slope too steep for trucks to drive up, or people to walk up?
o Drainage: If it rains, even the day before, does the water drain or puddle?
• Set up and Break Down
o Budget plenty of time for the installation of flooring, power, lighting and the tent itself. o
o Getting materials to and from the site: Can a truck make it up a steep grade, or will they have to hand carry everything up?
o Safety: Plans for steps, railings, handicap ramps (if necessary), exit signs, fire extinguishers, etc.
• Catering
o Kitchen and prep area: Work with your caterer for specific requirements on size and location.
o Serving: Do the servers have a level path between the kitchen and the main tent?
o Extensive Rentals (tables, chairs, plates, cutlery, etc.). You'll have to rent these items, either through your caterer or directly.
• Additional Staff
o Coat Check: For coats, jackets, umbrellas
o Shuttle Bus or Valet Parking Attendants: The tent may be located off the road, so your guests may welcome shortening their walk.
o Security: Again, something that a venue may automatically include.
• Additional Mechanicals
o Power: Are there outside power outlets nearby to tap into?
o Rigging: Many tents do not support rigging. Check with your vendor to see what he can do to hang equipment or other items if needed.
o Generators: For the kitchen, heaters, air conditioners, fans. Get the correct size and type of generator. There are generators made for events which don't make a lot of noise, as opposed to those made for construction sites.
• Water
o Food and Beverage: Check with the caterer if he needs a direct source of water.
o Restrooms: Are you using a trailer or portable facilities? Regardless, guests will need a place to wash their hands.
• Lighting
o Safety and service: There are codes for placing exit signs and other safety lights for tents. Your event company should know your local regulations.
o Decorative: This is where your creativity comes in, but first check with how the lights will be hung inside, or placed on the floor, including power cords and strips.
o Surroundings (parking lot, walkways): Illuminating the walkways and parking lot at night makes it easier for guests to navigate a grassy area and curbs.
• Temperature Control
o Heat/Air Conditioning: You can never be 100% sure of the weather in Connecticut, so just be prepared for an extreme hot or cold day.
o Fans: Determine how many, the size and where they will be placed.
o Sidewalls: Sidewalls that are staked can keep the rain out, but may not be as efficient against a strong wind. An (expensive) alternative is installing a hard wall.
• More spaces needed: Map out the additional areas and enough space you'll need in addition to the main tent.
o Kitchen Tent: Cooking area(s).
o Prep and storage areas: Plating dishes and storing all the food, beverages, rental tableware and supplies.
o Green rooms and VIP areas.
o Walkways between the kitchen, tent, restrooms, parking lot, etc.
o Restroom facilities.
• Other
o Zoning Restrictions: Check the town ordinances for specifics.
o Permits: You can get these yourself, or the event company can do it for you.
Thanks to Event Leadership Institute (ELI) and their recent webinar on Tents for the inspiration and contributions for this article. ELI is a leader in educational event planners, and a great source of information.
For more information especially on Tents, click on our How to Guide on Tenting.