Need that "Wow" factor in your event?  You can have it in a very cost effective way with a carefully planned lighting scheme.  Just think of the drama lighting creates – adding ambience to a room that changes a dark mood to one of elegance and fun.  There are multiple ways to use lights, including logo displays, moving lights, up lighting, focal lighting, intelligent lighting and LEDS.  Here's a brief introduction on the differences between the lights.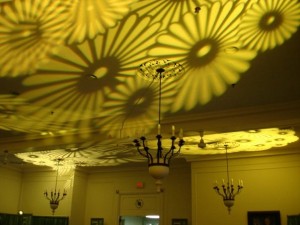 GOBO – Derived from "Go Between", or "Go Black Out" or "Goes Before Optics", this is a commonly used light to add virtually any custom design or logo to the room.  There are also hundreds of designs to choose from.  As you can see, this daisy design sparks up the room and takes it from bland to extraordinary. It's very easy to order a GOBO template as well as being inexpensive and reusable.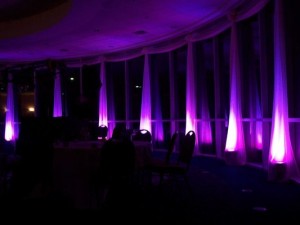 Up Lighting – Up lights are accent lights for streaming light up a wall or onto architectural details.  It adds drama and understated elegance to a room, particularly when lighting heavy draping that would otherwise fade into the background.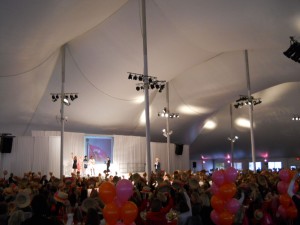 Focal Point Lights – Highlight a special area to bring more attention to it.  For example, use a light that focuses on  a special auction table, buffet, or trophy to draw guest's attention.  In this case it was used to focus on the speakers on the stage, as well as the fashion show runway.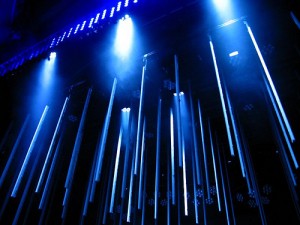 LED Lights – A light-emitting diode (LED) light has only been around since 1962 but has recently become very popular due to more advanced technology.  LED lights are used in a variety of applications, but here we'd like to talk about event lighting.  With LED lights, you have the availability of a multitude of colors and ambiance options.  LEDs emit such bright, vivid colors that singular lights (shown) as well as fully lite panels add drama to any setting.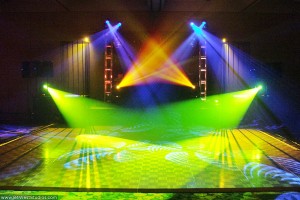 Intelligent Lights – These can be more expensive than other options, but if you want to change the direction, use and lighting color scheme on the fly, then these are for you. These special features can be more expensive and there's more set up time required, but once it's done, you can change what'd you like at the touch of a button.
Regardless of the lighting equipment you use, a lighting plan is necessary so every part of the room is accentuated properly.  Definitely take the advice of your event planner and electrician when planning a lighting scheme.  There are many considerations when it comes to placement, electricity and installation to have it come together successfully.  But in the end, it'll be spectacular.
For more information on lighting, download a free Lighting Guide at https://eventresources.com/wp-content/uploads/2012/08/ER_Lighting6.pdf