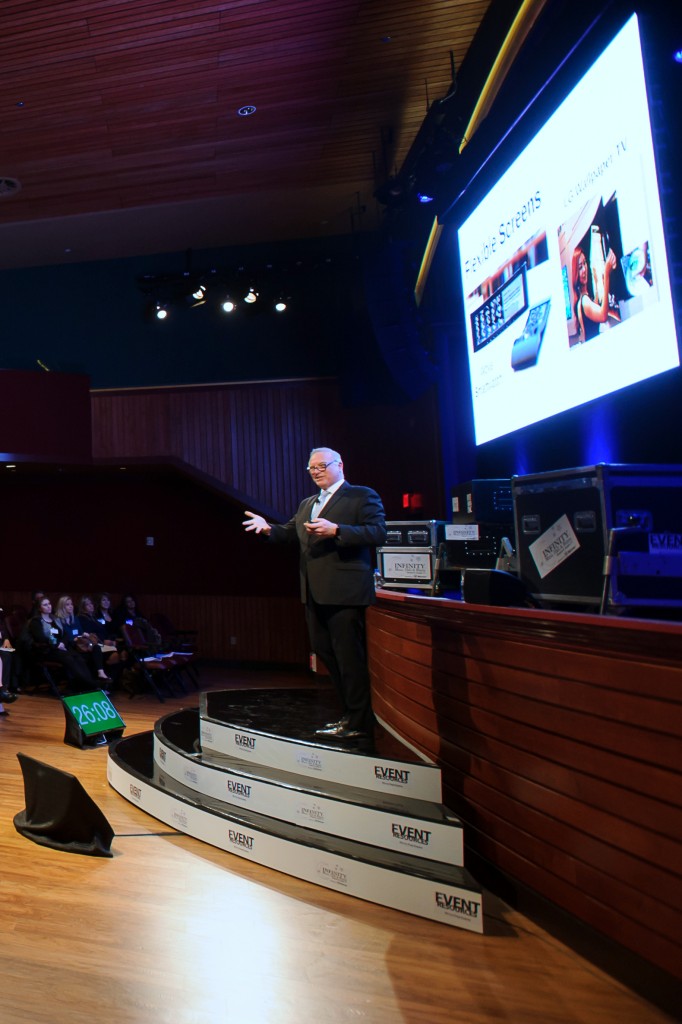 When first walking into an event, guests are wowed with the vibrant décor, pretty floral arrangements and fancy linens. When the lights go down though, and the program begins, the focus turns to the presenters. That's when the event production details takes center stage. The crowd is naturally expecting crisp sound and flawless presentations that comprise your program. Cutting corners on event production will become quickly evident when faulty sound, jerky presentations and blurry screens ruin your event. And that's not the way you want your event to be unforgettable!
With the advent of large projection screens, high definition quality, and digital sound, coupled with different sized crowds and unique venues, event production is now an art and a science, not just a simple equipment rental. High tech equipment and the professional technicians that operate it are worth the money to insure a flawless program. However, once you have the appropriate sound system for your event, you don't have to spend any more money to make it better. (As opposed to lighting, where the more money you spend the more spectacular the result.) Let's face it; you can't afford not to have clear, crisp sound for your event.
Here are some ways you can adjust your event budget to accommodate your event production needs, without sacrificing quality.
• Use an Outside Event Production Vendor
The in-house supplier is not the only option. Some venues typically include a service charge when using their in-house audio visual services and that's why those facilities recommend them. An outside supplier, however, won't include that extra service charge, will make you top priority, may already have a history of successful events with you, and use technicians that you know and trust. Go ahead and use an outside vendor. (Hint: Before you sign a contract with a venue, ask about any clauses or barriers that may penalize you for using an outside partner. Then try to negotiate them away.)
• Find a Turnkey Provider
It may be more expensive and time consuming to bid out individual services from multiple suppliers. This also adds layers of complexity for managing all the pieces and parts. Think of the extra time you will spend managing everything and calculate if it's really worth it. Turning to one turnkey supplier to address all your requirements is much more convenient and "worry free".
• Share Your Budget with Your Vendor
Yes, we know it's uncomfortable talking about budgets, but suppliers will welcome an accurate budget number when they are working out estimates. Keep in mind that your budget may be too low to meet your needs, but at least there is a number to work towards. Having a conversation about budget can help a supplier narrow down solutions to meet all your expectations. (By the way, it's always prudent to get the special requests from your presenters before your finalize your quote. Just so there aren't any last minute surprises.)
• Match Your A/V Needs to Your Event
The in-house sound system may be fine for announcements or a small group, so just leave it at that. For large groups, speakers and panel discussions, you'll want a sound system specifically designed for your event. Ways to save? Wired mics are less expensive than wireless mics, have great sound delivery at a reasonable price, are very dependable and less prone to interference. They may serve just fine for a panel discussion and save some money in your budget.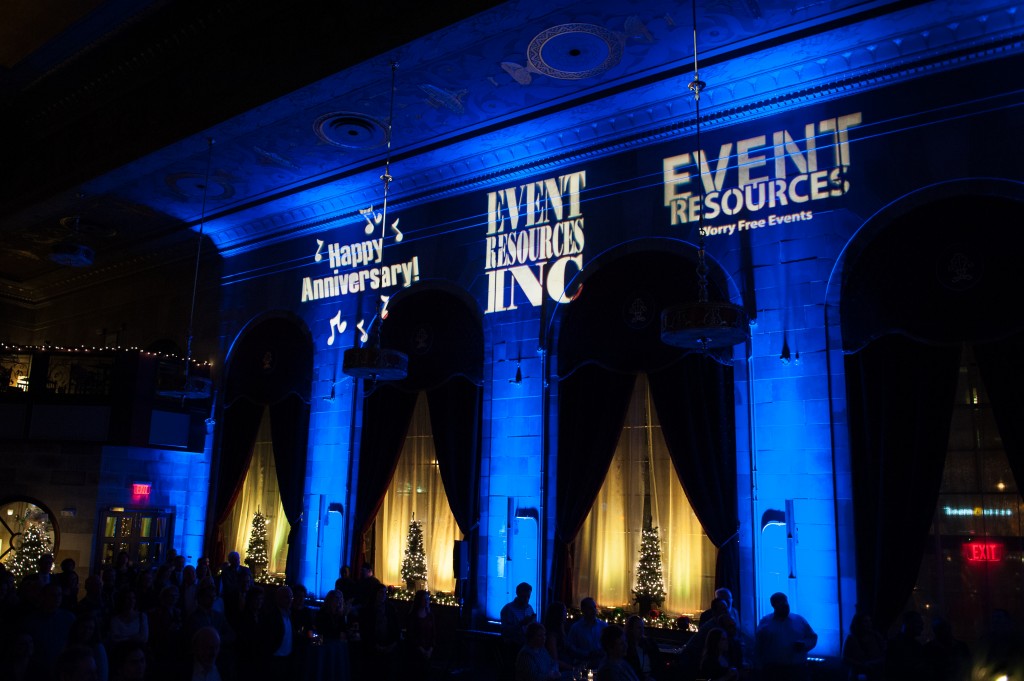 • Use Creative Lighting
Up lights and GOBOs (Goes Before Optics) have dramatic effects on a fairly small budget. GOBOs (metal or glass stencils that fit onto lighting fixtures) can cost as little as $30 for a stock image and $100+ for a custom design, such as a company logo, and are more versatile and cost-effective than a poster or banner. For instance, use GOBOs for sponsor logos or to decorate walls with images. Since it's your GOBO, you can use it over and over again. Colored up- lighting also adds vibrancy and flair on draping or a ceiling. At that point with so much happening with lighting, you may be able to cut back on other décor.
• Give Event Staff Plenty of Time for Setup and Breakdown
Overtime or extra labor for setup and breakdown can be expensive. If possible, reserve the space with sufficient time in advance (especially if it's a morning meeting) or you'll end up paying more for extra labor if time is tight. With more time to set up and test, the more assurance the event will go smoothly.
• Waive that Outside Vendor Fee
Although occurring in limited situations in the Hartford area, some venues may charge an "outside vendor" fee. Always ask for that fee to be waived. Also check to see if they are charging you for an in house liaison. Again, try to negotiate that fee away as well.
• Eliminate An Extra Step
Some venues don't want to get involved with event planning and production and may sub-contract it out to a preferred vendor. Ask if you can work with the event production company directly and you'll eliminate the "middle man" and simplify planning and billing.
• Piggyback with Another Event
Sometimes there is a chance the event before or after yours happens to have the same event production needs as you. By leaving the gear in place from one event to the next, you and the other organization can both get a discount on the event production costs.
• Adjust the Breakout Room Schedules
Think about the breakout room schedule. Is it possible to rework your agenda so you don't use as many rooms, or at least not hold them for the duration of the meeting?
• Discuss Your Annual Requirements
If you have multiple events, telling your Event Production supplier what you require for an entire year provides an opportunity to set equipment standards and pricing on a volume basis. Negotiating on an event-by-event basis takes time and frankly, you can probably get a much better deal by working on a multi-event arrangement. Now you're offering more value to the supplier, and in turn, you have a longer term partner relationship with people who will know your events, schedule, style and most of all, expectations.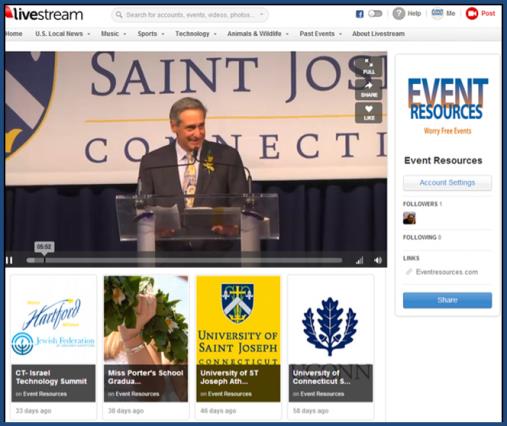 • Offer New Sponsorships
Consider having your program recorded and/or live streamed and selling a sponsorship for it. The sponsor has the opportunity to have their logo or slogan on the screen during the live recording as well as any archived versions.
• Utter Those 4 Magic Words
"My dates are flexible" may be the most important words in negotiating with any vendor, and especially for venues.  Popular dates fill up quickly at premium pricing.  Keeping your dates open is the best way to optimize your budget.
• The Best Choice is  When You Aren't Worrying if You've Made the Best Choice
When it comes to Event Production at your event, don't confuse the lowest price with the biggest value. Work with vendors who pride themselves on quality work, understand your goals, do a lot of pre-planning, and provide high quality customer service. The best choice may not be the lowest price, but a flawless event which is, after all, what you want.
Sources and For More Information:
How to Save Money in AV | Corporate Audio Visual Services …
Saving on those darn AV costs! –
3 Tips to Trim Your AV Costs – FormSet
Event Planning: Where Unexpected AV Costs Hide …
Save on Audio-Visual « Welcome To Small Market Meetings …
Saving money on your next event – Freeman Audio Visual
The Real Cost Of A Bad Corporate Meeting Or Event – Forbes
8 Reasons to Consider Using an Outside AV Provider
How Do I Save Money on My A/V Bill