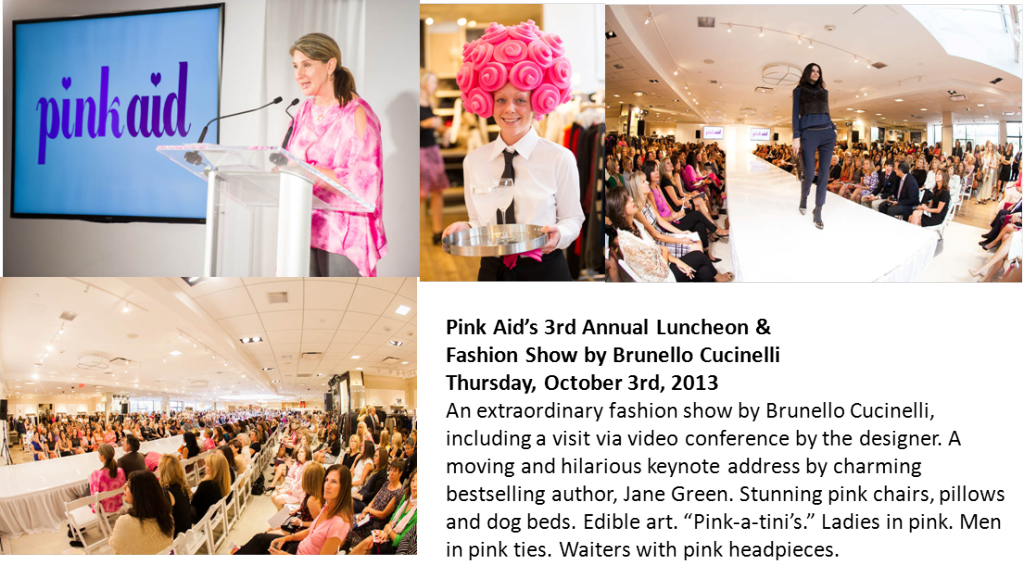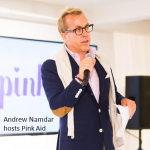 Andrew Mitchell-Namdar certainly knows fashion, no doubt about that. For generations his family have been the owners of the Mitchells Family of Stores, high end luxury clothing stores located in the über stylish neighborhoods of Westport, Greenwich, Huntington NY, San Francisco and Palo Alto.
But Andrew isn't just another luxury retailer.  He sets himself apart by constantly giving back to the community in a big way, by backing and hosting several charity events at Mitchell's every year. With style and meticulous attention to detail, he has integrated women's love of fashion with philanthropy and taken it to the next level. As a founding sponsor of Pink Aid, in 2013 Andrew was the proud host of the annual Pink Aid Luncheon, a tremendously successful luncheon and fashion show that showcases world renowned designers to hundreds of fashionistas. In only three years, Pink Aid has generated millions of dollars in donations.
How does he do it? There always something special about Andrew's events, and this year was no exception. For the first time, the featured designer, Brunello Cucinelli, requested to be an integral part of the fashion show, speaking to the audience and personally introducing his fall line to them. One of the most exclusive casual-chic fashion brands in the world, Cucinelli is famous for his cashmere products.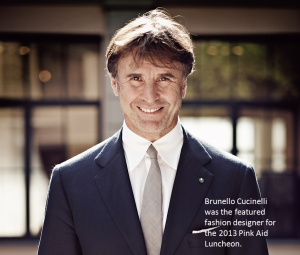 Having the lead fashion designer speak to the audience is commonplace. But not this time! Cucinelli wanted to speak to the audience from his headquarters in Solomeo, Italy, in real time. The quality of this video and audio transmission also had to be in keeping with Mitchell's high standards of excellence. With today's technology and the help from Event Resources, Inc., Mitchell's go-to event production company, this was made possible through high definition video conferencing.
To accomplish a high definition video feed from Italy, Event Resources' Production Manager, Brendan Twitchell set up a control area behind the scenes at the fashion show. The control area allowed Brendan to regulate the overall "run of show" presentation elements, alternating between PowerPoint slides, video, and a live feed to and from Cucinelli's office in Italy. While operating the equipment, Brendan was also communicating with Cucinelli via email to insure the system was working correctly, the audio and video were perfect, and the timing coordinated with the overall presentation schedule.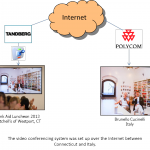 The backbone of the set up was two video conferencing systems, a Tandberg system located at the fashion show in Mitchell's Westport store and a Polycom system in Cucinelli's headquarters in Italy. Both were linked together through the Internet, with the video and audio feeds from Italy downloaded directly to the control center, and in turn, to the large monitors located throughout the audience.
In keeping with exacting standards, the entire system was tested the day before to insure everything was set up properly. Considerations were made for the bandwidth, dedicated IP addresses for the video and audio streaming between the US and Italy, and the elimination of any delay between the two locations. In contrast to Skype, what many people are familiar with when it comes to calling and seeing people in real time, professional video conferencing provides high quality video and audio transmission, handles multiple microphone feeds in the respective rooms, eliminates sound "echo", and offers an exceptional viewing experience.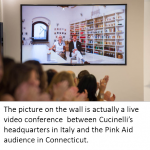 For an audience in excess of 500 people, professional video conferencing was the perfect solution. Cucinelli was clearly heard and seen by the audience, and he was able to interact with the audience from Italy as well.
This is just one way Event Resources has expanded event production to areas that bring an events to the next level. From live video streaming to international video conferencing, special event professionals now have the opportunity to take on global aspects and audiences.
#   #   #   #
About Mitchell's Family of Stores
The extraordinary vision of Mitchells | Richards | Marshs is to "hug" the customer—to enhance and add value to the retail experience. They are obsessed with extraordinary customer service and creating a uniquely warm environment, because anyone who becomes a customer has an enduring relationship with Mitchells | Richards | Marshs. Their motto is "Once a customer, always a friend." They give back to their communities and build trusting relationships with customers and friends that will last throughout generations. That is exactly what Mitchells | Richards | Marshs does to maintain their excellence.
One of the most successful high-end luxury retail groups of stores in the world, offering men's and women's clothes, jewelry, and accessories. Located in five cities on both coasts, the stores comprise over one hundred thousand square feet of retail space. They're not successful because they have better products or prices than their competition; it's because of how they treat their customers. Mitchells is still independent, family owned, and operated by a second and third generation of Mitchells who are looking forward to serving their customers for many generations to come. (Company information courtesy Safari Books Online.)
For more information about Mitchell's Family of Stores visit contact:
Mitchell's, 670 Post Road East, Westport, CT 06880
Tel: 203.227.5165
Website: www.mitchellstores.com
Facebook: https://www.facebook.com/mitchellstores
Email: info@mitchellstores.com
Event Resources is a full service, special event management and production company serving Southern New England. Producing over 11,000 events since 1989, we provide comprehensive logistical and technical solutions from the smallest meeting to the largest formal gala. Clients in the corporate, retail, education, non-profit, municipal, government and community arenas have relied on Event Resources as their one-stop resource for behind-the-scenes planning, coordination, and onsite execution of their important occasions. For additional information please contact:
Event Resources, Inc., 333 Park Avenue, East Hartford, CT 06108
Telephone: 860.528.1343
Website: www.eventresources.com
Facebook: https://www.facebook.com/eventresourcesinc
Email: events@eventresources.com.
There are several organizations that compassionately assist women in need that are diagnosed with breast cancer… but of course, they are in great need of funding. While it is critical that we all continue to contribute to breast cancer research initiatives, Pink Aid is a grant-based organization that funds the efforts of organizations that provide this type of compassionate care… currently locally and ultimately beyond. Pink Aid offers a welcome opportunity to join together to make a real difference in the lives of many women and their families, within and around our communities. Pink Aid is fiscally sponsored by FJC, a 501c3 public charity. As such, all donations are tax deductible to the extent allowed by law.
For more information about Pink Aid, please contact:
Pink Aid, 670 Post Road East, Westport, CT 06880
Attn: Andrew Mitchell-Namdar
Tel: 203.682.PINK
Email: info@pinkaid.org