Service Spotlight
Oh!? You can do that with that?
Event Resources is always looking "outside the booth" for inspiration on how to utilize our gear in different and unique ways. Whether it's pipe and drape, lighting, or other things; here are a few examples of what we can do for you at your next event!
CRYSTAL CURTAINS – If you are hoping to add a touch of elegance to your event, the crystal curtains may be just the answer. The crystal curtains provide a beautiful focal point when installed in front of a black panel with up-lighting. We've used white light, as well as many colored lights to enhance several events. 
---
BLINDS – Linear Accents, or as we've been calling them, "blinds" provide a nice accent to a modern set design. Horizontal, diagonal, or even a chevron pattern will certainly direct all eyes to the stage! While the blinds are eye catching, they must be used with uplighting to achieve to a bold, colorful, dimensional look.
---
PHONE CHARGING STATION – Not only will your attendees benefit from a device charging station at your next event, but so will you!
Attendees seem to always breathe a sigh or relief at events with charging stations, because even if they left their phone charger behind, or in the car, they can plug in and still remain connected to the office or home. Charging stations are gaining in popularity at events due to the necessity – but not just the attendee's.
At your next event, don't miss out on the opportunity to brand the charging station – either for your product or a sponsor's.
Is "branding" not your thing? Instead, take the opportunity to chat or network with attendees while they wait for that boost to their battery.
Not able to man the charging station? Make an informative video to play on a screen next to the station. Your attendees can remain engaged and entertained before heading back to their seat.
It's useful, customizable, a conversation starter, and so much more. Consider offering this perk at your next event – ask us how!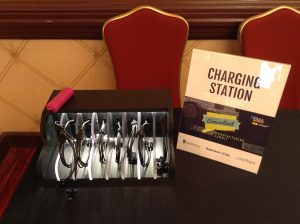 ---
"FLOATING CARDS" – We customized the "floating cards" set piece in-house for a client. It was a carefully engineered backdrop, and the payoff was awe-inspiring. The audience was captivated by this simple, yet beautiful design, and if you look closely, you can see just how large this piece actually is. The set was designed with very few materials (plus a whole lot of lighting), which begs the enforcement of the statement "less is more".
---
STAGING – In the event world, we are exposed to several different types of staging. What variety will work for your next event? Outdoor? Indoor? Carpeted? Square? Round? Multi-level? Here are a few photos for you to view and get a feel for what may work at your next event.
---
OUTDOOR EVENTS – Spring is upon us, as is the season of outdoor events! Think outdoor festivals, graduations, concerts, and road races.  A lot of work and considerations go in planning an outdoor event. You must consider seating (even when the ground is muddy), sound production (even when the power source is inside or far away), staging (even when the ground is uneven), keeping guests dry (even if it rains)… Will you record the event? Live stream it? Do you have a rain plan? You may have many questions and concerns, but we can help ease any woes. We've been helping deliver "Worry Free Events" for 30 years, so call us to chat. We can get your outdoor plan in motion, safely and efficiently.
---
POSSIBILITIES of PLASTIC – Many materials may be used when designing and building the details of an event. Whether we install soft or hard materials, often times, we use a variety of plastics. From acrylic lecterns to elaborate walls of texture; to customized seating and functional display pieces, we are continually developing innovative, eye catching, yet practical designs.
---
BIG, BOLD LETTERS – Branding your organization or event can be very important. One way to promote your name or product is by using big, bold letters. These can be used in a variety of ways – gracing an entrance; on stage; or in a pre-function area. Big, bold letters work well when painted and/or used with up-lighting. When coupled with other decor, such as drape, truss, and other set design pieces, your guests will certainly be impressed. Event after event, you can continue to use the letters – whether in the same style as the first time, or by re-painting them, changing the order of the letters to make new words, or however works best for your event.
---
CONFIDENCE MONITORS & TIMERS – Some seasoned presenters can grace a stage with total confidence without the help of any notes or outlines to help them remember what they are on stage to convey.  Most of us, however, may err on the side of caution, and opt for some "help" in the form of monitors.  There are a few options a presenter may choose from to boost their confidence, resulting in a smooth, focused presentation.
One option is a Confidence Monitor. This is a small screen, placed on the floor of the stage which shows the presentation TO THE PRESENTER. The monitor mirrors what the audience sees, so the presenter can stay on track and refer precisely to what the audience sees.
Another option is a Notes Monitor. This is also a small screen that is placed facing the presenter, on the floor of the stage. The information on the Notes Monitor may be a Powerpoint or simply some bullet points to help the presenter stay on track.
Another option is a Timer Monitor, which is usually used in conjunction with one of the other options. The Timer Monitor is exactly what it sounds like. The screen showcases the amount of time left in a presentation, helping the presenter deliver all of his or her information efficiently.
---
LIGHTING ACCENTS – Our team is always looking for ways to make events stand out and be one-of-a-kind, so we created these light boxes so your next event can shine! A whole room can be transformed from "blah" to "bling" with the flip of a switch. Use as few as one light box, or 26 of them! Stack them or line them up. With a little creativity, nothing is impossible!
---
STANCHIONS – Most often used to separate a crowd from an entryway, expensive art piece, or otherwise, stanchions aren't always your typical chrome and red velvet. There are many varieties of stanchions, and we can help determine what will work best for your next event!
---
TRUSS – Though used mainly for rigging, truss can be used in a variety of ways. Yes, you can suspend lighting, decor and other items from it, but it can be re-purposed as a dramatic entryway, projector stands and so much more!
---
PIPE and DRAPE – As a staple in the Event Industry, pipe and drape is often used as a way to divide space or hide backstage gear from an audience. We like to play with new concepts and see how we can create an impact with our ideas!
---
EVENT LIGHTING – It's probably the most effective way to transform the look of any event.  Ask us about the effective ways you can light up your next event!