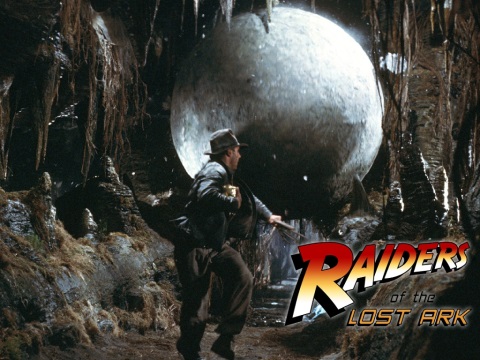 Have an unusual event request?  Don't worry, if we don't have it, we'll know where to find it. Here's a sample of some unique requests we've fulfilled:
For a Raiders of the Lost Ark theme we created a huge boulder out of a 6′ diameter beach ball to chase "Indiana Jones" around the stage.
Projecting a custom logo on the side of a building at night can be a little more complicated than you'd think.  You have to be aware of where the outside power source is located and if the cable will be a tripping hazard, is there a sturdy pole to hold the lights, or will one have to be installed?  The weather (will it be very color or very hot or rainy?) and frankly, ample security so no one will walk away with the equipment.  Just saying. (By the way, we did the project without a hitch.)
Displaying an Indy race car in the middle of a mall. First off, the tires have to spotless or the floor will get dirty. Really dirty.  There there are the fire regulations about actually driving a car inside a building (gasoline, carbon monoxide and all that.)  However many of these fancy exhibition cars do not include the engine… so they are lighter, easier to maneuver and don't have safety issues.
 Rental Bleachers. Good for an outdoor event, of course. You can rent them in all sizes.
Setting up 50 rows of chairs on an angle on the right and left side of a space. This takes some geometry – the kind we took for granted in high school.  Set up 500 chairs on the wrong angle and you've just doubled or tripled your workload when you have to adjust them all.  On either side.
Of course, each event should be unique in some way, and that's where originality and ingenuity come together.  If you've ever wondered "what if we could do (fill in the blank) at our next event", just pick up the phone and  call us at 860-528-1343.  It's always fun to see what can be done that's new and exciting.