LED Video Wall Display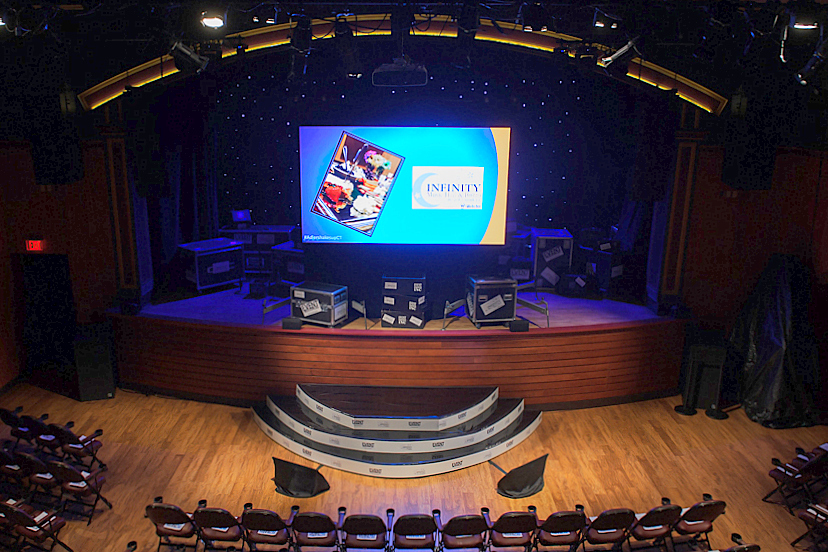 The show stopping LED Video Wall on stage at Infinity Hall Hartford is stunningly bright for the people sitting in the back, and clear as a bell for those sitting in the front row. The popularity of giant LED displays has increased among event planners as they have become more available and smaller than the large, stadium-sized ones. Now LED screens give event planners opportunities to display video, graphics, live social media boards, and sponsorships, even in direct sunlight!
The LED Video Wall is made up of a series of modular 'tiles' which can be assembled into different sizes. Each tile relies on thousands of tiny electronic dots that light up dynamically. Seen at a distance, these points of light resolve into a stunning image!
These LED displays are NOT the same as the ones you use for television viewing. These types of LCD displays do not function in direct sunlight, and perform poorly in daylight. (Just take your TV or laptop outside to see for yourself) They are typically one-piece and their maximum practical size is limited to about 80-inches.
Because the LED's are a direct light source, LED video displays can be used in ambient light, even outdoors, in direct sunlight. The measure of brightness of an LED display is typically measured in "candela per square meter" (cd/m2) or nits. Our outdoor rated LED display modules are capable of producing a brightness of 7,000 nits! By comparison, a modern LCD TV or computer display will have a brightness of just a few hundred nits (200-400).
Find out more about how to step up the brightness of your next event with an LED wall display. Contact us at 860-528-1343 or events@eventresources.com