Webinars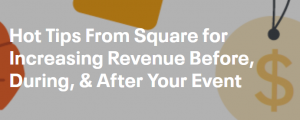 For many event creators, a sold-out event is one of the markers of financial success. But what happens when you meet that goal and still want to make more money? The time has come to focus on additional revenue streams.
One-third of event professionals generate the majority of their revenue from sources other than ticket sales. Whether it's through sponsors, merchandise, or exciting onsite activations, the key to growing revenue is putting the attendee experience first. When you build a great experience for attendees, you'll build a relationship — and that's when everyone reaps the benefits.
But you can't begin to know whether your experience is connecting with attendees or driving revenue unless you have the ability to track the right data. Putting systems in place to track that data across all of your different revenue streams will allow you to know what's working, and what's not, so you can create efficiencies and improve your event.
Event Manager at Square, Sofia Figueroa, hosts this webinar so you can learn:
How to put systems in place to start generating revenue before your event
Ways to deliver revenue-generating experiences at your event
How to keep revenue coming in after your event